When it comes to quality, Honda tops the list
Home-grown car brand Perodua is the auto brand that Malaysians believe gives most value for money, new analysis from Plan & Track reveals.
YouGov tracks consumer brand perception and purchase behaviours on a variety of metrics. Its Value score asks consumers which brands constitute good value for money, and its Quality looks at which brands consumers perceive to be of good quality.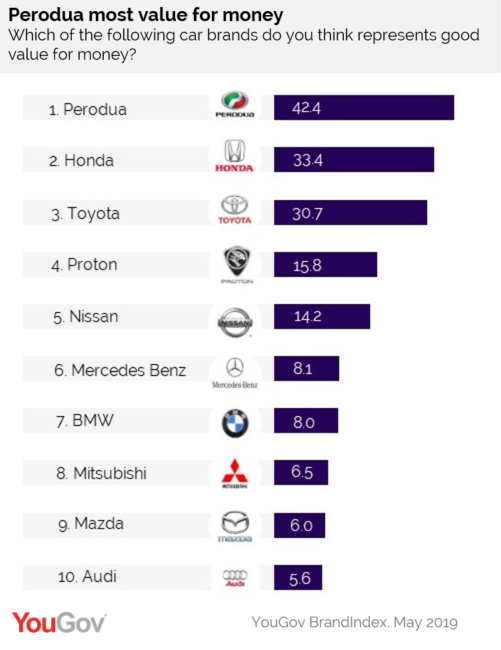 Perodua tops the list in terms of value with a score of 42.4, well ahead of Japanese car brand Honda, which follows in second place (33.4). Other Japanese auto manufacturers make up a big part of the top ten, with Toyota in third (30.7), Nissan in fifth (14.2), Mitsubishi in eighth (6.5), and Mazda in ninth (6.0).

German automotive brands also feature prominently, with Mercedes-Benz coming in sixth (8.1), BMW in seventh (8.0) and Audi in tenth (5.6). Local car Proton completes the list in fourth place (15.8).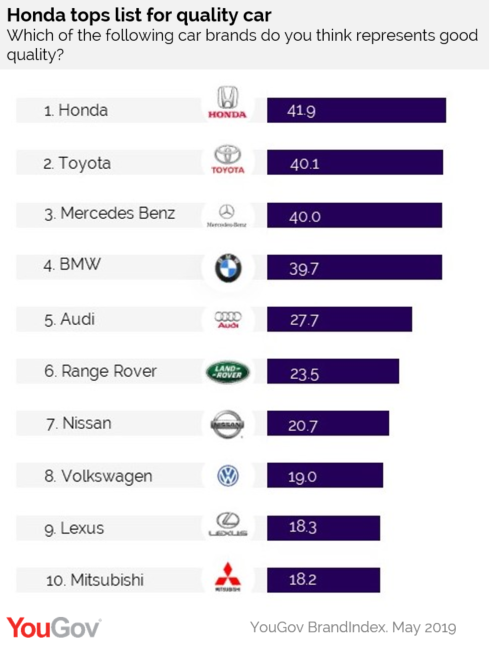 YouGov's data shows that while Honda is second in terms of value, it tops the list when it comes to quality – with a score of 41.9. It is followed by fellow Japanese brands Toyota in second (40.1), Nissan in seventh (20.7), Lexus in ninth (18.3), and Mitsubishi in tenth (18.2).
German brands also do well when it comes to quality. Mercedes-Benz is in third (40.0), BMW takes fourth place (39.7), Audi is in fifth (27.7), while Volkswagen comes in eighth (19.0).
The list is rounded out by Range Rover in sixth (23.5).
Ervin Ha, Head of Data Products at YouGov APAC commented: "Quality and value are two of the top considerations when purchasing a car, and when it comes to Malaysians brand perceptions, Japanese and German cars are top choices. However, even with the variety of car models and brands around the world, Malaysians still pick Perodua as top value-for-money."