Instant messaging service WhatsApp heads YouGov annual BrandIndex Buzz ranking, taking the top spot for the fourth year in the row.
YouGov BrandIndex measures the public's perception of brands on a daily basis across a range of measures. The annual rankings are compiled using Buzz scores from across all 52 weeks of last year. Buzz scores measure whether people have heard anything good or bad about a brand during the previous two weeks.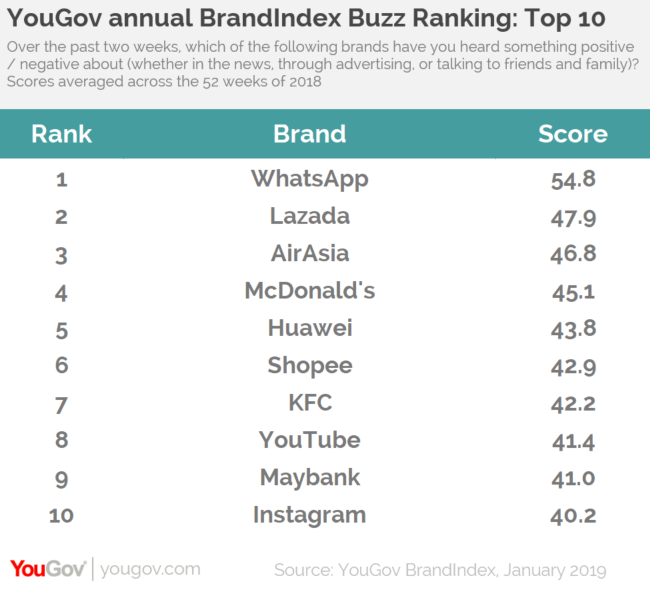 Digital brands have a strong presence in the top ten, particuarly e-commerce brands like Lazada coming in second place (+47.9) and Shopee in sixth (+42.9). Chinese phone brand Huawei (+43.8) comes in fifth. Social media platform YouTube takes eighth (+41.4) while Instagram is in tenth (+40.2).
Two fast food brands make the top ten with McDonald's in fourth (+45.1) and KFC (+42.2) in seventh, while the list is completed low-cost airline AirAsia in third (+46.8) and local bank Maybank in ninth (+41.0).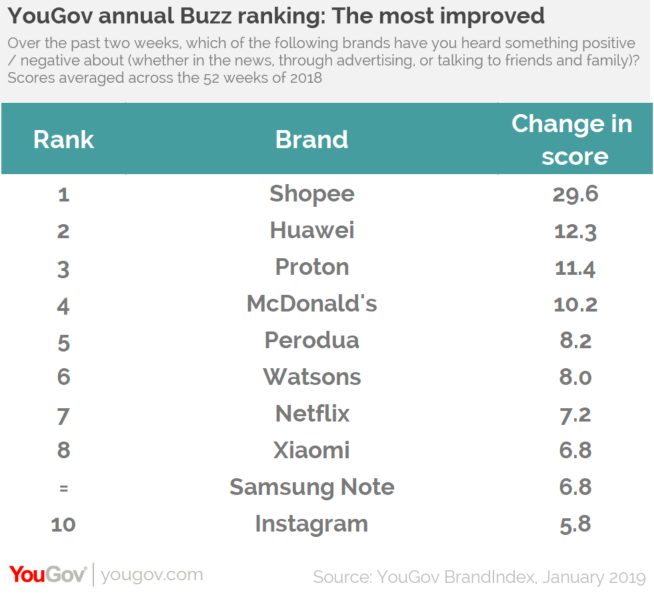 YouGov also reveals which brands have the most improved Buzz scores. Shopee comes up on top with a rise of 29.6 points, ahead of Huawei (up 12.3 points) and local car brand Proton (up 11.4 points).
Ervin Ha, Head of Data Products commented: "Digital brands dominate this year's Buzz Rankings. WhatsApp remains the brand that most people have heard good things about – taking the top spot for the fourth year in the row. Convenience is at the heart of this list – whether it be messaging services, fast food brands or e-commerce platforms. "